News Details
Sega Master System - Dead Angle
Let's celebrate a lazy Sunday with a classic game for the Sega Master System. This time, we're taking a look at Dead Angle, a classic story of a hard boiled detective who put the wrong dude behind bars. Now his girl is missing and he's fully engaged in a PMoV! (Psychotic Mission of Vengeance - it's important!)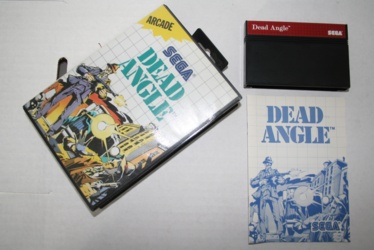 Careful reading of the back of the box points out that this game was licensed from SEIBU KAIHATSU, another Japanese game company. They are best known for their Raiden series of titles, though also created the Dead Angle game, one year before Sega of America would get the rights to bring it to the states. This is a fun game, and definitely worth picking up!
Posted by charlie on December 7th 2008, 01:40 PM
Leave Comment

Share
---
No comments have been posted.
---