News Details
Indiana Jones - Colonel Vogel
Despite our efforts to find the Indiana Jones Last Crusade figures, the Preserve collection is still one Elsa short of a full deck! Don't even get me started on the Temple of Doom figures - we have never seen a single one at anything approximating retail! Granted we're not trying as hard as the great Masterpiece Starscream hunt of ages past, so the prospects of finding these fantastic figures at retail are looking pretty grim. It was therefore a delight to stumble upon this Vogel figure, all alone on the peg without his matching Elsa sadly (but certainly with plenty of Crystal Skull Mutt warmers to keep him company).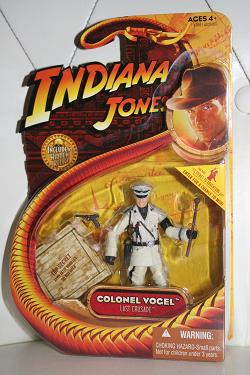 This is yet another great figure that shows the true tragedy of Hasbro canceling this line after only one wave for each movie. Granted we really got a ton of great product over it's short life span, and everyone should be thrilled about that, but they stepped up their game so much for the Last Crusade and Temple of Doom figures that it's just heartbreaking to have the line killed just as it reached it's stride. Well, you can click the image above to check out Vogel, and I hope that Preserve readers across the country are having better luck tracking down the last few figures than we are here!
Posted by charlie on December 8th 2008, 10:14 AM
Leave Comment

Share
---
doctorkent
December 14th

Charlie, if there is someone you are still missing, LMK! I will keep an eye out for them.
cparry
December 15th

Thanks doctorkent! We're still looking for Elsa and the entire Temple of Doom wave. I think Elsa will turn up locally (in fact I think they have more Last Crusade cases in the back room at the local Target that I just need to ask for), but ToD is another matter entirely!
---