News Details
Indiana Jones - Cargo Truck with Fabric Canopy
Featured in a group shot a few days ago with the excellent
G.I. Joe Modern Era
F.A.N.G. and C.L.A.W vehicle set, the Indiana Jones Cargo Truck 'with real fabric canopy' now has it's own entry and pics.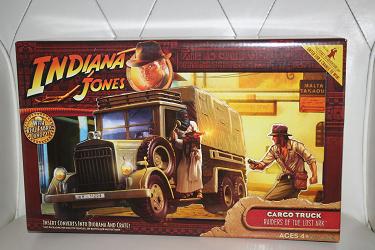 As mentioned, this vehicle represents the end of the 2008 Hasbro Indy vehicle line, with all other potential 2009 entries either having been shelved or scrapped. It still puzzles me that they released this as a very slight modification to the wave 1 cargo truck, but really, you can never have too many of these things! Be sure to pick up some spare German Soldier and Cairo Henchmen 2-packs as the line goes through it's termination this holiday season. Hopefully those figures from Raiders and (especially) KotCS (Russian Soldiers!) will be super-discounted, so keep your eyes open for mounting sale values as the weeks go by! With luck, everyone can do some troop building without breaking the bank. That cargo truck has a lot of room in the back, after all!
Posted by charlie on December 10th 2008, 04:40 PM
Leave Comment

Share
---
No comments have been posted.
---