News Details
Indiana Jones - Col. Dovchenko 12 Inch
Opinions on the movie may have certainly been mixed - I know that I keep my own council on the thing - but at least the Crystal Skull Indy movie from the summer of 2008 spawned the best Indiana Jones toy line to have yet been made. Of course we've mentioned again and again that the line has been prematurely canceled due to low sales figures, thanks in part to luke warm reaction to the movie by the public. The figures in the final waves are nearly impossible to find, so while we don't have the last wave of 12" figures, we were able to secure a Col. Dovchenko covered with fire ants from hasbrotoyshop.com!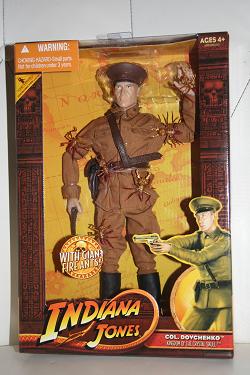 This figure will probably never turn up in my local stores, so it was fortunate that it was available through standard channels. I think they did a pretty solid job on the sculpt, and the packaging is fun with the ants mounted all over. The product ID numbers would indicate that he should have been part of the first wave of figures to be released, which would have made sense, but there must have been some sort of trouble that required a delay in the release.
Collector Tip:
Remember, if you see the 12" Indy in German Disguise figure, grab it!
Posted by charlie on December 19th 2008, 12:51 AM
Leave Comment

Share
---
No comments have been posted.
---