News Details
Indiana Jones - Grail Knight
It amazes me that some Indy fans don't like the Last Crusade movie. Maybe I was just at a nice point in my life when I saw it, or maybe it's because it is one of the movies I remember seeing in the theater with my father, but it stands as one of my all time favorites. Of course it follows that I love the line of toys that squeaked out of Hasbro in support of this fantastic film. Today I wanted to feature the Grail Knight, who was of course sitting atop the apex of the film, the destination of the last hour's worth of high adventure. His little facial queues when various grails are selected are priceless, and he certainly has a gift for understatement. Click the image for a detailed page on the knight himself, and some more images of this fantastic toy.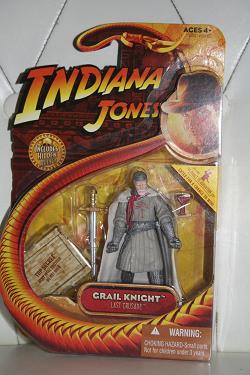 I also have to point out how great it is that Elsa comes with the fancy decorative false-grail, while this figure, rightly, comes with the plain, proper Grail itself. Movie accurate, and how key that we get an accessory of both items!
Posted by charlie on December 22nd 2008, 05:46 PM
Leave Comment

Share
---
Uncle
December 23rd

You chose...wisely.
---