News Details
Sega Master System - After Burner
I hope that everyone had a fantastic and magical Christmas, and that you managed to get everything you wanted, both tangible and otherwise. I was delighted when I received a Rock Lord from my brother-in-law on Christmas morning - knock me over with a feather! It'll certainly be posted on the Preserve once the holidays have petered out and the camera-computer-website chain is re-established. In the meantime, let's check out another edition to our slowly growing Sega Master System library, with After Burner!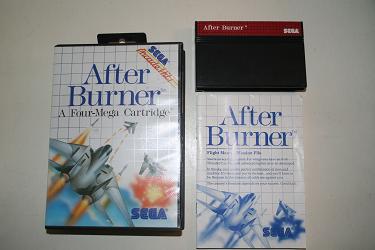 This had to be one of my favorite games in the arcade as a kid, though admittedly the thing that really won me over was the giant sit-down version, complete with hydraulics that would toss you around as you fought for your life in the skies! What a maintenance nightmare that game must have been, and it was certainly down more than it was running, but every now and then Challenges in Willow Grove Mall, PA would come through, and for $0.50 I'd get to have a little flight sim time!
Years later, at one of the arcade auctions I attended in Cherry Hill NJ (which are, I believe, now defunct) there was a sit-down After Burner machine. It was huge. It was
almost
working. It had to weigh 500lbs...and it didn't even sell for $5. What a heart breaker - I should have just gone for it, since I now regret missing that awesome chance. So, in the absence of that beautiful machine acting as the center point of my increasingly unusable living room, let's all settle for this SMS game, which is a pretty accurate rendition of the arcade experience. Maybe you can just roll around your room while playing; the poor-mans flight sim!
Also be sure to check out the expanded After Burner page for a look at an extra that was included with the game - an order form for a
Free Membership
to the Sega "Challenge" Team! Awesome!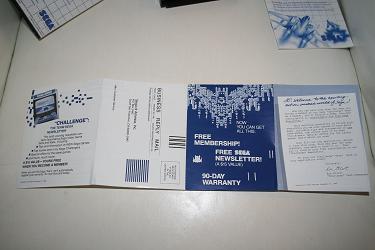 Posted by charlie on December 26th 2008, 01:20 PM
Leave Comment

Share
---
No comments have been posted.
---