News Details
G.I. Joe Modern Era - Wave 13
Mere moments before leaving the sanctity of the Preserve for distant lands this holiday season, a fedEx truck pulled up with yet another box from hasbrotoyshop.com, who seem to be on a mission to spend as much as possible shipping my free-shipping items one piece at a time. Well, this was a pretty welcome box, as it contained the entirety of wave 13 of the G.I Joe Modern Era figures, which, along with waves 10, 11 and 12, have never been seen in my small town. This was a very well and carefully packed box, as you can see. At least there was a little scrap of air-filled plastic draped across the figures to keep them company!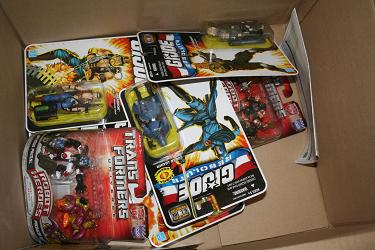 Due to this sudden breakdown in distribution, amusingly after Hasbro assured everyone that they were upping production on what has proven to be a very popular line, buying them on line for 25% off isn't really a hard choice. I'm sure there are many sound reasons for the lack of product in stores, not the least of which is the tanked American economy, the closure of Chinese toy plants, the price hike that has left wave 9 figures gathering dust on store shelves...and it's not like we can expect much improvement!
The Uncle
reports that products from all waves of the Joe line are readily available in Long Island, all except for the Target Exclusive
Ultimate Battle Pack
, that is. Well, anyway, wave 13 looks to be another excellent addition to this growing line, featuring three characters from the new animated feature Resolute! The trailer was shown at San Diego Comic Con, and is probably available elsewhere on the internet, so we've all seen these character revamps of some old favorites, but it was a nice surprise to see them incorporated into the line already. Also was very sneaky of them to segue right into the new line...no chance to escape!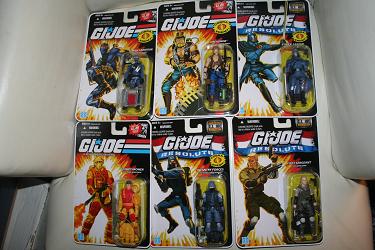 Posted by charlie on December 28th 2008, 10:17 AM
Leave Comment

Share
---
No comments have been posted.
---