News Details
Indiana Jones - Young Indy
We finish off the year with what may seem to be a lack luster choice, since it's clear that this figure, out of all of the Last Crusade Indiana Jones figures, is the one deemed worthy of peg-warming through the holidays, but it does have a greater significance. Mainly, this is the last figure of the wave, and will be the last figure that most collectors will manage to find from this series without resorting to eBay or other third party channels given the terrible availability of the Temple of Doom figures. Also, you just don't see a whole lot of River Phoenix action figures! We bring you, therefore, the Young Indy figure, who in the course of a single afternoon showed us where nearly every defining trait of Indiana Jones was formed - that was a busy day!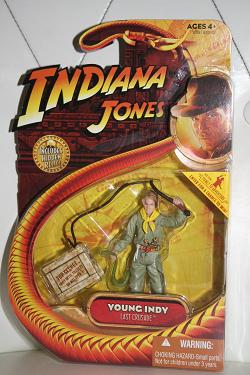 With that we wrap up 2008 here at the Preserve. It was definitely a year for tremendous change, where we started to cover the major toy industry events in the capacity of 'press', and were able to really be on the cool cutting edge of the newest toys from the largest of the large, like Hasbro and Mattel, through the mid-tier awesome shops like NECA and Mezco, all the way to small but mighty companies like Beantown and Teddy Scares. Look for us to continue our efforts in 2009 to cover the growth and changes in the toy universe, but also to get back to basics as much as possible with ongoing coverage of the huge vintage archive of the Preserve!
Posted by charlie on December 31st 2008, 11:17 AM
Leave Comment

Share
---
No comments have been posted.
---