News Details
Indiana Jones - Temple of DoctorKent
Long time reader and friend of the Preserve, DoctorKent, has come through in a huge way, helping us to secure the final wave of Indiana Jones figures from
Hasbro's discontinued line
! As we've said over and over, the Temple of Doom wave is seeing very limited distribution and we had all but given up hope, when we got the email several weeks ago with the good news! He tracked them down at a local KMart of all places, which is sometimes good for surprises these days as their visitor numbers dwindle. Note the hilarious price of $9.89 on them ("sale"!), compared to Target and WalMart
trying to give away
the rest of the figures lately. Either they have a savvy toy dept. manager (unlikely) or I bet they will have a lot of Mutt Williams hanging around for a loooong time. Still that price beats any other ToD option these days, and eBay continues to rub me the wrong way for items you should currently be able to find in the wild.
As rumored elsewhere these figures really are beautiful, Mola Ram even coming with some cloth goods and signature flaming heart! Click the image to check out a hi-res shot of the full set, and look for detailed pages soon.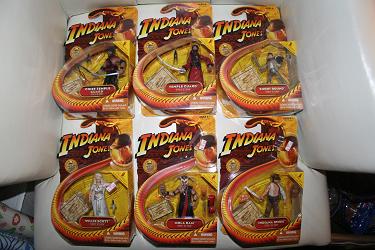 It is so refreshing to get a shipment of items from another actual collector. DoctorKent isn't messing around, and I just have to show the fantastic packing job that was done for these figures. For astonishingly stark contrast, please reference the photo of Hasbro's recent
shipping attempt
.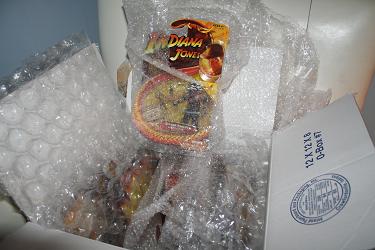 So thanks again DoctorKent, and we can all remember the line from
It's a Wonderful Life
at this holiday season,
"No man is a failure who has friends!"
.
Posted by charlie on January 2nd 2009, 07:18 PM
Leave Comment

Share
---
No comments have been posted.
---