News Details
Transformers Animated - Sentinel Prime
We haven't taken a look at any of the stylish figures from the Transformers Animated line in quite some time, so today let's check out Sentinel Prime! This no-nonsense by-the-book leader of the Elite Guard is definitely a stick in the mud, but has some skills and is probably better to have on your team than against you. Click the image for a detailed look at this character, his weapons, and his Galactic Powers and Abilities!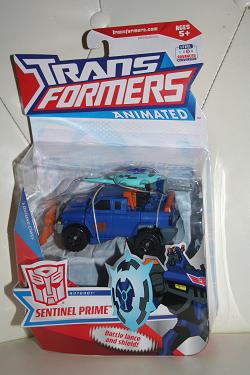 With the animated show having been renewed for at least the Spring of 2009, we can expect even more excellent figures to be forthcoming, including Arcee! It's likely what with the big Transformers movie sequel coming out next Summer that they'll put the brakes on the Animated line to some extent, but we'll get the full story when we visit Toy Fair in February!
Posted by charlie on January 3rd 2009, 08:22 AM
Leave Comment

Share
---
No comments have been posted.
---