News Details
G.I. Joe - Dreadnok Torch
It was not until I sat down to add some of the new G.I. Joe Modern Era wave 13 figures to the archives of the Preserve that I realized how truly far behind we are in the coverage of basic figures! For a change, this is not due to us just being slow or lazy, but is that total lack of waves 11 or 12 on local shelves. As each day slides by, it's looking more and more like we might miss out entirely on these waves! Well, hopefully these 12 (twelve!) figures will turn up eventually, but in the meantime let's take a look at the Dreadnok Torch!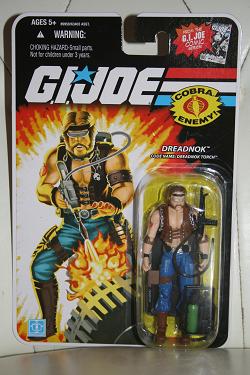 Part of Zartan's merry band, you just gotta love the Dreadnoks. It's fantastic that Hasbro has now released all of the 'major' crew, of Buzzer, Ripper and Torch, though Joe Purists will be quick to point out all of the other characters who need to see the light of day. Well, rest assured that Hasbro has plenty of tricks up their sleeves for 2009, and we'll look forward to seeing them first hand at Toy Fair in February!
Posted by charlie on January 4th 2009, 06:09 PM
Leave Comment

Share
---
abyss
January 5th

Yet, where is Russell Crowe?
cparry
January 5th

Oh man - perhaps the sequel!
---