News Details
Masters of the Universe Classics - Beast Man
With the release of
Skeletor
imminent (January 15th, 2009), it seemed time to get some coverage up about the first figures in the hot new Mattel Masters of the Universe Classics line. You'll remember the excitement with which we announced the ordering of He-Man and Beast Man way back on December 1st, and our further excitement when they finally arrived. Well, the figures are indeed awesome - check out Beast Man!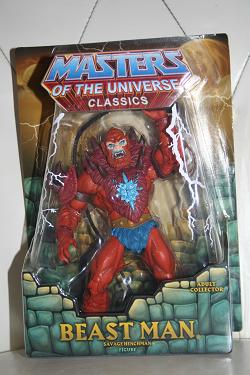 Good ol' Raqquill Rqazz is ready to control some beasts and monsters for his master Skeletor, just in time! The packaging for these figures is cool - smaller than you'd expect from store-standard, and it's especaially cool to note the lack of a hang-tag, it not being intended for store pegs. We'll get He-Man himself posted soon, as well as detailed coverage of King Grayskull, the figure who re-launched the line! You'll remember that he was a
San Diego Comic Con
exclusive, and is really the first figure in this line, so he deserves a better write-up than he's so far gotten, which basically entailed
The Uncle
and myself
in the parking lot
doing some case breaks!
Posted by charlie on January 7th 2009, 11:34 AM
Leave Comment

Share
---
No comments have been posted.
---