News Details
Transformers Universe Deluxe - wave 4
The fourth wave of Transformers Universe Deluxe figures has arrived from hasbrotoyshop.com. It's still pretty tough to find these in stores around here, especially the Cyclonus figure who pays homage to the classic Targetmaster concept! It is also excellent that Hound has the additional bonus of a little Ravage figure, though Ravage himself looks a little rough around the edges. Detailed pages coming soon - click the image for a larger look at this great set of Hound, Cyclonus, Cheetor and Starscream!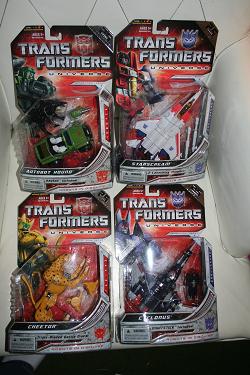 Posted by charlie on January 10th 2009, 04:21 PM
Leave Comment

Share
---
No comments have been posted.
---