News Details
Indiana Jones - Lost Temple of Akator Playset
In the home stretch of the
Hasbro Indiana Jones
line now, we come to the great playset that was produced for this line. While most of us would have really loved to see another Well of Souls or other vintage themed playset come out of this line, it is understandable that they focused their initial efforts on a Crystal Skull movie tie-in. We bring you, therefore, the Lost Temple of Akator playset! A repaint from a recent Star Wars playset, it actually works much better with the Indy theme, and is a great addition to the franchise. Click the image for more packaging shots, and additional box text about this great set.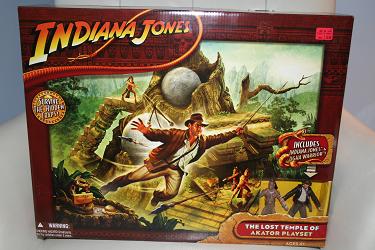 Being that I'm a huge fan of the older films, and nearly have the opposite feelings towards the new effort of Crystal Skull, I have to at least raise a flag about the set description. I know Hasbro was doing their best with what they had to work with so I hold them blameless, but it is certainly a stretch to say that the Lost Temple of Akator represented "the most devious set of traps and puzzles he has ever encountered". I suppose, much like other recent franchise 'revivals' that Lucas has his mits all over, I should watch it more than the one time, somewhat anesthetized, in the theater which causes me to not clearly remember all of the salient events and 'plot points' before I raise such complaints. I do not, however, remember the Akator Temple as being very complex at all, certainly compared to the path to the Grail in Last Crusade for instance. Maybe by that point in the movie I had just ceased paying any attention what so ever - very possible!
Either way, it's a great playset and we do owe the new movie for allowing this whole line to even be made in the first place. Hasbro insists that if a 5th movie is made, they are ready to re-launch the line with many of the great figures (coughTohtcough) that we
saw
previews
of before they were canceled. Given the performance of the 2008 Crystal Skull flick, it's unlikely - but we can always hope!
Posted by charlie on January 17th 2009, 10:17 AM
Leave Comment

Share
---
Uncle
January 17th

My vote goes to a Club Obi-Wan playset.
---