News Details
GI Joe Modern Era - Destro and Shockblast comic pack
As the
G.I. Joe modern era
line begins to include figures from the new animated Resolute feature, we are getting some great previews of the style of the characters before we see the feature itself. Today let's check out the other comic 2-pack from wave 4, which features "pilot" Destro and Shockblast.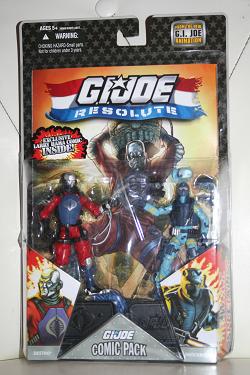 The Shockblast figure is another example of a name change that Hasbro has made this year, renaming the classic character Shockwave which first found plastic fame in 1988. It's too bad that the pursuit of a trademark has caused so many classic names to be 'reworked' this year, though through careful tracking and observation we can at least know who the characters are supposed to be.
This set is another fantastic entry to the growing comic pack line, and also makes us more excited than ever to finally see the Resolute series in full!
Posted by charlie on January 18th 2009, 08:16 AM
Leave Comment

Share
---
No comments have been posted.
---