News Details
Indiana Jones - Grail Knight and Col. Vogel Adventure Heroes
Let's check out another entry into the Adventure Heroes line, with the Grail Knight and Col. Vogel two-pack from the quite hard to find Last Crusade wave. Another pair of highly detailed, expressive little figures is contained herein, and I really wish that it was easier for people to find these on shelves! Click the image below for more pictures.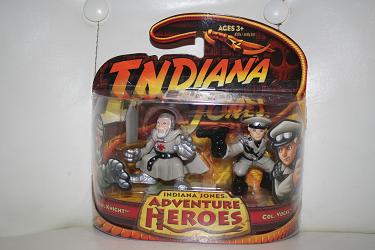 From reading some Indy forums today, it sounds like WalMarts across the land are putting the remaining figures on some truly catastrophic sales - in some cases as low as $0.70! Target has also marked things down significantly, and while my local store is basically out of all Indy figures, for stores that still have some stock remaining you can get some screaming deals on the Akator playset, figures of all sizes and the vehicles from this line.
Collector note:
WalMarts in Canada are apparently receiving cases of the impossible to find Temple of Doom wave! So, any readers in Canada - don't give up hope - get out to WalMart and score some (discounted!) rare figures!
Posted by charlie on January 19th 2009, 10:58 AM
Leave Comment

Share
---
No comments have been posted.
---