News Details
Transformers Movie 2007 Real Gear - Midnighter XR-4
Let's take a step back to the very recent history of the Transformers line with a figure from the
2007 Movie series
. The Real Gear sub-line was mostly overlooked and under-purchased, however as is often the case, the final wave of figures was pretty hard to find and even now is difficult to pick up on ebay. Fortunately for all us completeists out there, hasbrotoyshop.com had that last wave available for a while, so we were able to add them to the Preserve! We feature Midnighter XR-4 today who has a real problem with time. Read his full bio for a great look at a compulsive, paranoid Decepticon who may be high in rank, but is low in effectiveness.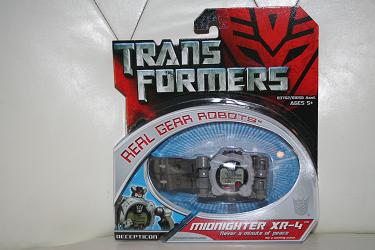 Posted by charlie on January 21st 2009, 02:01 AM
Leave Comment

Share
---
No comments have been posted.
---