News Details
Indy and Elsa
We have another Indiana Jones Adventure Hero set to show you today - the last of the trio from the impossible to find Last Crusade set. Sadly out of 6 figures in this small wave two of them are Indy himself, but as previously discussed that's what you get with a title character! This set features Indy and Elsa, and Elsa even has the false Grail with her! Click the image for more shots of this rare set, and the awesome artifact of the $3.99 TJ MAXX pricetag - the sole reason the Preserve has these figures!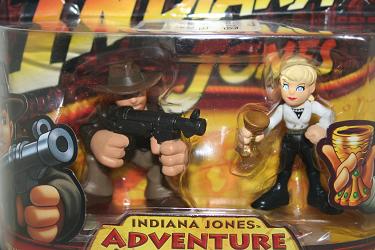 If we had been keeping up with the archives appropriately that would finish up the Adventure Heroes line. But! We have to go back now and wade through the Crystal Skull figures, as well as several sets from Raiders, or wave 1. So - you have lots more Adventure Hero action still to come!
Posted by charlie on January 22nd 2009, 02:39 AM
Leave Comment

Share
---
No comments have been posted.
---