News Details
Transformers Universe Legends wave 4
We're finally catching up a little on the current toy release postings, and have started up the Transformers Universe Legends figure coverage. Oddly enough, we're starting out with wave 4, but things so very rarely make any sort of sense.
These are actually sort of hit-or-miss to find in stores, and it is interesting that the local WalMarts are really carrying only a subset of the massive Hasbro boys product line. For example, I don't see 12" G.I. Joe figures, Transformers Legends, or G.I. Joe vehicles in my local supercenters. I'm certainly willing to believe that it is because my local stores are less than ideal, but still given what a large part of the corporate jigsaw puzzle Walmart is these days, it must be a problem that they are not carrying all of the Hasbro formats across the board. I think this may in fact highlight that the deluge of products from Hasbro is a little over the top, even for the nation's largest retailer! Well, check out 75% of wave 4 of the Transformers Universe Legends figures - there is some good old fashioned G1 love going on in this set!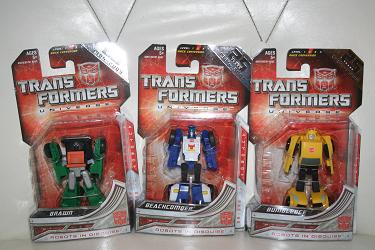 Posted by charlie on January 25th 2009, 06:51 PM
Leave Comment

Share
---
No comments have been posted.
---