News Details
Toy Fair - Lego: Space Police
Lego is keeping their hat in the space toys ring with their great Space Police line for 2009. They did not show off any new entries in the Mars Mission line, as it's finished for now, but the new Space Police sets were looking great! First appearing as part of their Space line-up in 1989, then again in 1992, it is great to see this classic series coming back for another round! Expect these sets to hit in August, along with most of the other new products that were on display. Click the image to see the full Space Police gallery and live the vintage revival!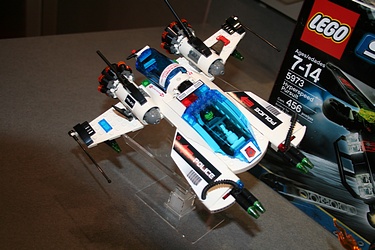 Posted by charlie on February 21st 2009, 04:26 PM
Leave Comment

Share
---
doctorkent
February 23rd, 03:39 PM

I so don't want to buy another Lego line...but it's SPACE POLICE. Damn.
cparry
February 23rd, 09:13 PM

Straight from 1989 to your modern day living room - who can resist?!
doctorkent
March 18th, 06:10 PM

Well, I've pretty much confirmed I'll be getting these. The final tipping factor? Did you know that Mars Mission figures also had the Classic Space logo? Trying SO hard not to buy any Power Miners during any toy store visits...if TRU has a BOGO Lego sale this year, all bets are OFF.
---