News Details
Toy Fair - Giant Microbes
Widely known, popular, collectible, iconic, and still friendly and fun - it's always great to stop by the Giant Microbes booth. They had five new characters with them for the show and for 2009 so far: Cavity, e. coli, c. Diff, West Nile and Anthrax. As usual they all looked great, and I can't get over the fantastic Egyptian styling of the Nile eyes. They also continue to have great success with their mega-micros, the up-sized figures that are great on the couch, as a pillow, on a camping trip, as a wedding gift, the list goes on and on! Click miss West Nile below to see their full gallery!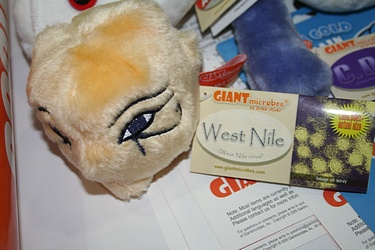 Posted by charlie on February 24th 2009, 12:08 AM
Leave Comment

Share
---
No comments have been posted.
---