News Details
Toy Fair - Lego: Pirates
We were very excited several months ago when Lego Pirates sets started hitting store shelves! This line was, at least if memory serves, a core and awesome part of their entire brand from 1989 - 1997, and I remember having many a nautical battle. The shape and heft of the ship's cannon were particularly memorable, and the detail was always superb. Seeing them on the shelves again was wonderful, and seeing them all together and assembled in their Toy Fair booth was a great thrill as well. Unfortunately only the sets for January, so the ones that are already released, were shown. Hopefully there are more pirates in development deep within Lego headquarters, but at the very least I'm glad that we got these several fantastic sets!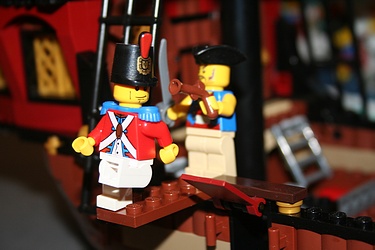 Posted by charlie on February 24th 2009, 01:54 PM
Leave Comment

Share
---
No comments have been posted.
---