News Details
Toy Fair - Underground Toys
We paid a visit to Underground Toys on the first day of the show to see what is new in the land of Doctor Who. For several years now this company has been importing some super-sweet figures from the UK that correspond with the ongoing new Doctor Who show. This year in the UK the show is taking a bit of a break as they transition from teen heartthrob David Tennant to a new bloke - relative new comer Matt Smith. Well, there is still time for a few more 10th Doctor figures, and Underground will be sure to bring them to us, along with full sets of companions past, as well as more enemies than you can shake a sonic screwdriver at. Oh, and be sure not to miss this
little extra part
of their booth, where I saw one of them hang their coat - yes, it's the very best coat closet ever! And no, it's not for sale apparently - I asked! Click the image for the full gallery.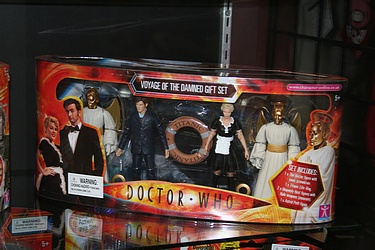 Posted by charlie on February 25th 2009, 10:43 PM
Leave Comment

Share
---
No comments have been posted.
---