News Details
Toy Fair - TickleMe Plant
We always see the annual Toy Fair as an opportunity to expand the scope of what we talk about here at the Preserve. Certainly back around 2001 when the site was just starting out we covered all manner of things, which is something I hope to get back to in 2009. The recent deluge of interesting new toys since we turned our radar back on in 2006 has sucked up all of our coverage time - to the detriment of variety. Well, thank goodness for Toy Fair, and being exposed to so much cool stuff all in a few days.
In keeping with that, I wanted to share a wonder of the natural world, the first Action Plant - the
TickleMe Plant
! This small company debuted at Toy Fair this year, and brought with them their living, breathing, moving plants. When you touch (or tickle) the leaves, they immediately react and defensively curl up! It's a great way to introduce kids to gardening and to something a little more natural and authentic than a plastic action figure (gasp!) and will be an activity that parents and kids can really enjoy together. While I'm a terrible gardener, I do keep trying - I think years of video games and touch-typing may have permanently removed any threat of a green, however dexterous, thumb. This product, therefore, appealed to me and seemed like a great idea, and like a lot of fun. As we run headlong into an uncertain future, with resources quickly being used up, it's not difficult to imagine a return to basics and I think that a company focusing on natural and renewable ways to play has their sights set in the right direction! Click the image below for our small gallery of their booth, and look for a full press release soon about their clever and enjoyable product!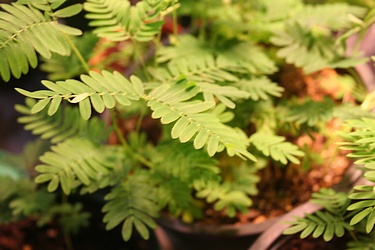 Posted by charlie on March 3rd 2009, 10:28 AM
Leave Comment

Share
---
No comments have been posted.
---