News Details
Toy Fair - Tonner
Our friends from Tonner had their beautiful display set up as always, full of the latest products that will be carrying them through 2009. We had seen some of the fantastic new additions like Hawkwoman, Catwoman and Maxwell Smart on display a week earlier at the New York Comic Con, but new for this show were Agent 99, Wonder Woman and Miss Piggy! The work on these pop-culture licenses keeps getting better and better, and I know that I am one voice in a large chorus who is looking forward to the Doctor Who and Torchwood figures! Still bogged down with the typical hatdance of likeness rights and such, they haven't quite revealed any part of those new lines, but it must be right around the corner! Our love for the Hawkwoman wings continues, and we chatted with them about the difficulty in finding a company who would hand-manufacture those amazing wings - well it was worth it. Click the image below to see their entire booth gallery!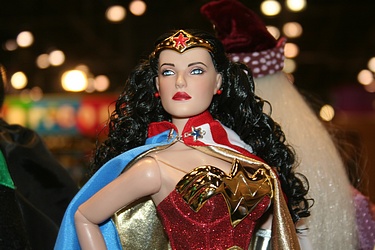 Posted by charlie on March 5th 2009, 09:57 AM
Leave Comment

Share
---
No comments have been posted.
---