News Details
G.I. Joe Modern Era - 12 Inch Destro
Alright, we have been plowing our way through the thousands of
Toy Fair
pictures for some number of days and weeks now, but at last are finally up to the final day's worth of coverage! As such, it was time to take a short detour and at least mix in a few toy catalog updates with our news barrage, so here is the 12-inch Destro from the current
G.I. Joe Modern Era
line!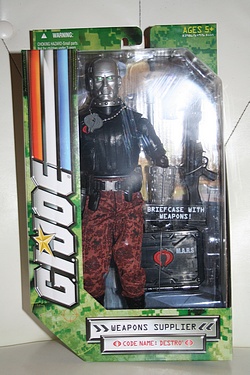 James McCullen Destro is looking good and well accessorized in this recent release by Hasbro. I continue to find this 12-inch line to be intriguing - a good value and something I feel will be even more rare and collectible than most of the 3 3/4" figures in the 'main' line.
The Uncle
certainly has some theories on that, basically that the market for these larger figures is smaller, and accordingly production is lower. Certainly it has been proving difficult to track down the waves beyond 1 and 2, which clogged pegs. It is these higher waves where the action is and where you are likely to see the really rare figures in the fullness of time. Also remember that this line, along with the rest of the Modern Era collection, will be put on indefinite hold as the movie toys come out this summer. Hopefully the movie does well and we see a return of our classic collection a year or so in the future, but anything can happen!
Collector's Tip:
So far the hot ticket in the 12-inch collection is Shockblast from the very wave in which we find Destro, wave 4. I still haven't tracked one down, and he is going for quite the premium. I also believe that the Cobra Eel from wave 5 will be very highly prized, and comes with really awesome accessories! So far there is not even a single example of either the Cobra Eel or Snow Job on ebay, both from that wave, so their rarity is looking more legitimate every day.
Posted by charlie on March 6th 2009, 08:35 AM
Leave Comment

Share
---
No comments have been posted.
---