News Details
Transformers Universe - Nemesis Prime Prototype
Recently
The Uncle
secured a prototype of last year's San Diego Comic Con exclusive Nemesis Prime figure from a mysterious and exotic source overseas. We've got a gallery of this pre-production sample, compared against what we were all able to buy that weekend on the show floor - click the image below for all of the pictures!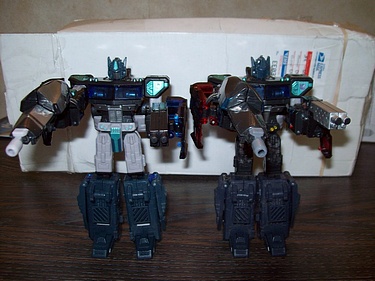 Posted by charlie on March 16th 2009, 01:00 AM
Leave Comment

Share
---
doctorkent
March 18th, 06:08 PM

What's really interesting is the proto you have shown here is a mix of two different figures - the Nemesis Prime we got at SDCC, and a never-released one that was closer to Black Convoy/Scourge with the red windows and all. I don't know if I would have bought him again in those colors if it had been officially released - how many Primes can one man have?
Uncle
March 20th, 09:01 AM

Eagle-eyed as always, DoctorKent. You can make out the red translucent plastic on the side windows of the prototype in some of the shots. I think this was to be a Japanese exclusive that ended up getting cancelled. A man can never have too many Optimis Primes.
---