News Details
Toy Fair - Schleich
When you are in Target, checking for the latest and greatest Transformers, G.I. Joe or Teenage Mutant Ninja Turtles 25th Anniversary figures (all three lines!) you may also notice a section several aisles away with the Schleich label. This company manufactures fantastically detailed scale models of knights, castles, farm animals, sea creatures and best of all, Smurfs! Last year they celebrated the 50th anniversary of the Smurfs with a booth give away of a Smurf with a
Jeroboam
of champagne - a very cool and highly prized show exclusive let me tell you! They were back with their astonishingly beautiful booth and great products, and we finally got up the nerve to visit with them on the last day of the show, when attendance was low and we wouldn't be under foot. Click the image below for a look at some of their great products they had on display!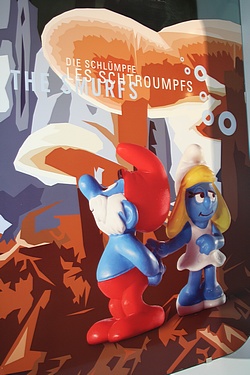 Posted by charlie on March 27th 2009, 08:32 AM
Leave Comment

Share
---
No comments have been posted.
---