News Details
G.I. Joe Modern Era - Sharc Tooth with Deep Six
Let's dip back into the
G.I. JOE Modern Era
line today for a look at one of the fantastic vehicles from yesteryear that they brought back for the celebration, the Sharc Tooth...with Deep Six! This was certainly one of my very favorite Joe sets as a kid - the hand pump that you could use to make Deep Six submerge and then pop back to the surface of the bathtub was not to be beaten by just about any toy. The action on the wing guns which popped out like headlights on a Fiero was also particularly memorable, immediately coming back to mind in the most minute detail with a moment's effort! Here then is the remade set, which looks every bit as great as it did in 1984 (the greatest year) when it was first released!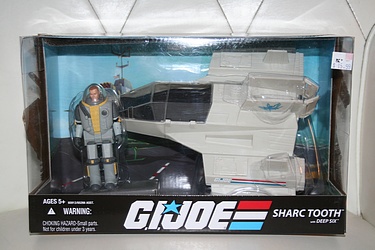 Posted by charlie on March 30th 2009, 09:22 PM
Leave Comment

Share
---
No comments have been posted.
---