News Details
Transformers Universe - Ultra Class Powerglide
Way back at Toy Fair 2008 we had our first looks at the Transformers Universe line. One of the pieces we saw was the Ultra class Powerglide figure, which is a great reimagining of the previously mini-class Powerglide. His bio tells us that he's not faster than most Decepticons, but has a lot of moves up his sleeve that more than make up for it! The best thing to know about the Universe line is that the Voyager figures, while borrowing classic names, were all repaints of figures from other series of Transformers, while the Ultra class were all new molds! Click the image for more shots of Powerglide, and his full bio and specs!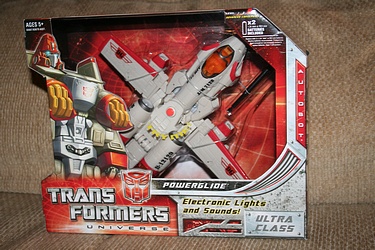 Posted by charlie on April 4th 2009, 04:55 PM
Leave Comment

Share
---
doctorkent
April 6th, 08:23 PM

I'm using this figure as Bad Boy, and the JP-exclusive red version as Powerglide.
---