News Details
Transformers Universe - Nemesis Prime SDCC Exclusive
Several weeks ago we posted the
prototype Nemesis Prime
figure that
The Uncle
had secured from the distant parts of the exotic Orient. He did a great job of comparing the prototype to the more readily obtainable versions of that same mold, including the actual San Diego Comic Con Exclusive Nemesis Prime. Well, we finally got around to creating the gallery for exactly that figure - click the image below for more looks at his voyager class Nemesis Prime and to read the Bio that clearly has a little extra care in it!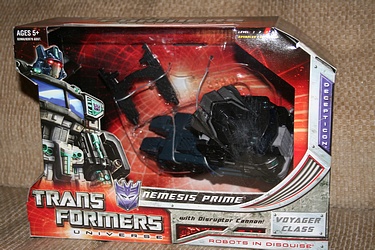 Today we discovered that the local Target was in fact entirely sold out of the amazingly discounted Transformers Animated Exclusive 2-packs, which I would assume is the story nation wide. It's amusing to look at the tag and see that the sale extends until Saturday, assuring that they will have a mostly empty end-cap display for the better part of the week. What is sharing that end-cap, though, are the second wave of Target Exclusive G.I. Joe jets! Now to see a similar discount applied to those would be an outcome about which one does not even dare to fantasize!
Posted by charlie on April 7th 2009, 06:55 PM
Leave Comment

Share
---
No comments have been posted.
---