News Details
Target Transformers Animated Price Botch - Local Update
Now for an update on the shenanigans going down this week at Target stores. Word on the Internet was that the stores had upped the price of the sets, as reported yesterday. What we found locally however, having nothing to put on the shelf, is that they replaced the exclusive 2-packs end-cap with one shelf of Bumper Battles and one shelf of Universe Deluxes. The Joe jets are still sitting pretty on the lower half of the cap as before. As
The Uncle
wisely put it yesterday, someone is putting together their resume as we speak!
Now that we've seen that whole fiasco run its course, I figured that a little photographic proof of how we contributed would be in order!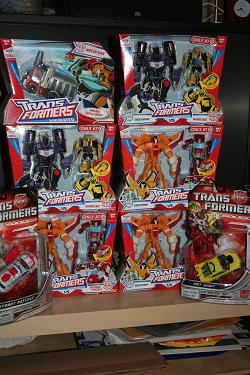 We managed to get three of the Sunstorm packs and two of the oh-so-cool purple repaint Shockwave sets. Several Sunstorm sets (clearly the less popular of the two) were left behind in the hopes that an actual kid, or at least another fan, might get to pick them up. We were hit with a double whammy in finding the final wave of Universe Deluxes, and you can see Hot Shot and Ratchet book-ending the haul.
Since the Animated Voyager sets were on sale as well, it seemed a good time to pick up the one and only Wreck Gar in the store. His episode is especially cool in that he is voiced by Weird Al - this is old news of course, but it makes me so glad to repeat it. What a brilliant bit of voice casting by none other than Sue Blu (Arcee) to get the man who sang what became the Junkion theme song in the 1986 movie to provide the character voice 23 years later!
Ok, mentioning Arcee reminds me to vent just a little, and this is a
spoiler
for the upcoming Transformers movie, so do with that info what you will. We have known for a while that fan favorite character Arcee will be in the upcoming Transformers live action movie. What we recently learned is that genius auteur Michael Bay didn't like how the character was working out, so kills her meaninglessly and moves on with the (apparently re-written daily) plot. I was already prepared to not like this movie - sadly - but I admit to being in the throes of righteous nerd rage when reading the press releases on this topic. I won't carry on, but felt it was worth mentioning if anyone needed additional reasons to hate on Bay! This story ran everyplace, but I particularly enjoyed Rob's (of toplessrobot.com)
take on it
.
Posted by charlie on April 9th 2009, 06:00 PM
Leave Comment

Share
---
cranky_skink
April 14th, 06:59 AM

If he hates her so much, why even include her in the movie? Is he such a douche that he's including her _just_ to kill her off?
cparry
April 14th, 09:51 AM

Yeah I certainly wondered the same thing - I think it was a concession to fans that may have been made outside of his involvement, but then as soon as he had the ability he ruined it - a true talent!
---