News Details
Hasbro Indiana Jones - Mutt Williams with Motorcycle
Speaking of the upcoming Live Action Transformers movie, here's something no one really wants to see either, a Shia the Beef action figure! On a motorcycle! From that awesome scene in the Crystal Skull movie! Well, it is a blast from the recent past, tying up a loose end and finishing the 'Deluxe' gallery from Hasbro's short-lived (but overall very cool)
Indiana Jones line of 2008
. Also, a very good silver lining is that the bike is actually very cool, and a great piece for the $10 price level of this pack. Click the image for more pics and the back-of-box text...if you have nothing better to do!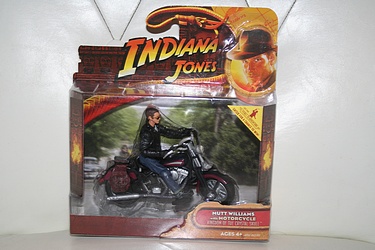 Posted by charlie on April 10th 2009, 11:05 AM
Leave Comment

Share
---
No comments have been posted.
---