News Details
G.I. Joe Modern Era - Duke vs. Cobra Trooper Combat Heroes
Let's celebrate Easter with a late Sunday look at another excellent set of
G.I. Joe Modern Era
Combat Heroes. Today we turn our sights to Duke vs. a Cobra Trooper - click the image below for more close-up pics.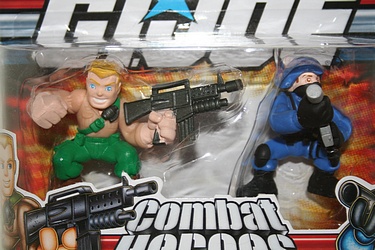 Consistently the only fault that I can find with these figures is the occasional overly manic grin that they are sporting to make them more 'kid friendly'. Duke in this set particularly suffers from this effect, and looks like he is taking immense pleasure from pointing that huge gun at the apparently terrified trooper's head. Actually, upon closer inspection I guess that makes this an unexpectedly cool set, and the lack of a mouth at all on the trooper gave the Hasbro designers a little extra leeway to perhaps make the face seem a little less than excited to be there. A fitting Easter set, at this time of peace and joy!
Posted by charlie on April 12th 2009, 07:35 PM
Leave Comment

Share
---
No comments have been posted.
---