News Details
Transformers Animated - Leader Class Ultra Magnus
Ever since the first (and still hands down the best)
Transformers movie
hit theaters in 1986, the character of Ultra Magnus has been a fan favorite. This is particularly amusing since he's sort of an ineffectual sad-sack in the film, though has the great distinction of uttering one of several cherished surprise swear words in the film. Certainly anyone who saw it in theaters as a child had no sooner dried their eyes from the death of Prime than we see ol' Magnus blown apart by the Sweep armada on the planet of Junk. Good thing Wreck Gar and his buddies are such handy bots! Well, the Transformers Animated series continued to deliver the goods with a great character and toy of Magnus himself. Click the image below for his features, bio, and additional pics!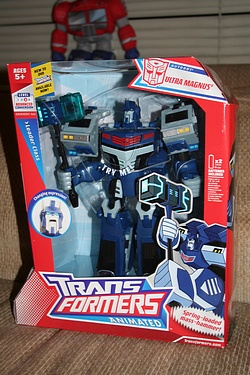 Posted by charlie on April 13th 2009, 07:19 PM
Leave Comment

Share
---
No comments have been posted.
---