News Details
Transformers Animated - Blurr
In the mid-'80s, Micro Machines were definitely awesome. In fact, there is a pretty sizable collection of those cool little die cast dudes around the Preserve archives that are just waiting patiently for their moment in the spotlight. One of the best things about the line was the commercials, and I'm sure that anyone of the proper age, aka. aging dudes like ourselves, will remember John Moschitta, Jr. the speed talking spokesman!
After seeing him in purportedly 100 commercials for the line, it was fantastic to hear him voicing the speedster Blurr in the 1986
Transformers Movie
. Now, in 2009 Transformers is back on TV in the form of the ever popular (but canceled) Animated series, and he has returned to again voice the character of Blurr - how cool is that! Well, today we celebrate John Moschitta and his alter ego Blurr with the figure from Transformers Animated. Click the image below for more images and the lightning fast bio!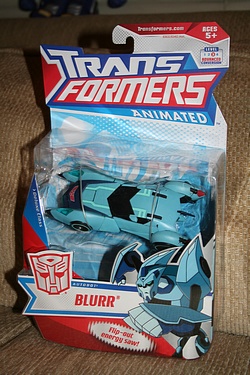 Posted by charlie on April 21st 2009, 12:44 AM
Leave Comment

Share
---
No comments have been posted.
---