News Details
G.I. Joe Modern Era - Zartan with Chameleon
The original G.I. Joe cartoon had a number of characters so memorable that they stuck with the original fans for decades, still eliciting visceral reactions all these many years later. Certainly one of the best designed, intriguing and all around awesome characters was Zartan, and it's great that we have gotten not one but two versions of him in the new G.I. Joe lines (one 25th Anniversary, one Modern Era). Click the image below for a few more shots and the always excellent bio of Zartan, with his rockin' accessory the Chameleon swamp skier!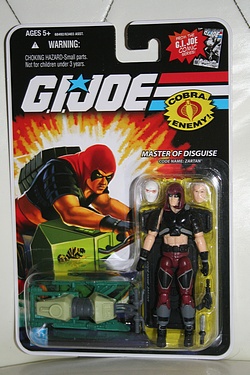 Posted by charlie on April 22nd 2009, 06:59 PM
Leave Comment

Share
---
No comments have been posted.
---