News Details
G.I. Joe Modern Era - Flint vs. Baroness Combat Heroes
The
G.I. Joe Modern Era
line may have been put on hold while the
Rise of Cobra
movie line takes over for at least the rest of the year, but thankfully we are very slow around here at the Preserve so the line lives on! Today we are featuring one of the Combat Heroes 2-packs from wave 2, Flint vs. Baroness!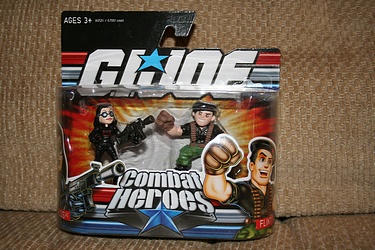 It really is a shame that the 3rd wave of these little guys was canceled, as we've complained earlier. Hopefully Hasbro will make good on their claim of releasing the figures from that wave in some sort of set later in 2009 - we'll see! In the mean time, enjoy the Baroness in this pack. She has quite the facial expression in her box art, and the figure gives us yet another take on this fan-favorite character.
Posted by charlie on April 26th 2009, 06:05 PM
Leave Comment

Share
---
No comments have been posted.
---