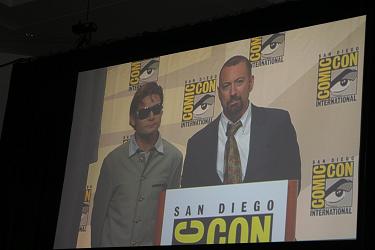 We were able to catch the world premiere of Lost Boys 2 (aka Lost Boys: The Tribe) in the evening on this first day at Comic Con. The panel discussion after the movie starred the Frog brothers! Jamison Newlander and Corey Feldman took the stage in character, and while that didn't make for very good question answering, it was pretty amusing.

The moment of the night came when The Uncle himself asked the brothers if it wasn't a "tactical error to attack the blood suckers in their lair, in the middle of the night?" The crowd loved it, and the brothers jumped out of their seats, ready to defend their honor!
"You weren't there, alright??" Feldman yelled, and calmed after a few more verbal slings. It was awesome.
Product Images (7/24/2008):
Feldman initially takes the stage as himself
The panel assembles
The Frog brothers defend their honor against The Uncle!
---