Welcome to Toy Fair, 2012!
Hansa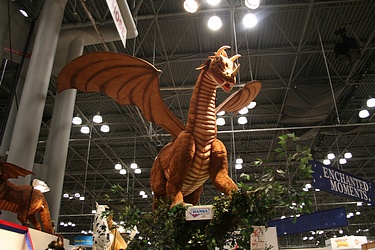 Always our very favorite plush visit of the entire show, Hansa had a small yet mighty booth this year, chock full of their astonishingly beautiful and lifelike animals. While consistently impressed by the products that they bring to the show, I was absolute rendered speechless by the massive dragon that loomed delightfully over their booth - available for custom order sale for $7000! My pictures don' t really do it justice, even when I tried for a full booth shot complete with people - as it was the largest plush animal I have ever seen, by a mile.

Also fun? The fellow sitting on the left under the dragon in the full booth shot is none other than Hans! That's right, Hansa founder Hans J. Axthelm! I've enjoyed his products for so long that it was a real honor and surprise to meet him this year, and he was extremely friendly and approachable. He took great delight in telling me more about their beautiful dragon, and how it comes in either the single-headed or 7-headed varieties, and can be made mechanized! Better still, he had just sold seven of the multi-headed model at the German Nuremberg toy show the week prior. I hope at least a couple independent toy stores in the US have added one of these amazing dragons to their showroom - as it is sure to amaze and delight their customers just as it did me today!
Booth Images:
---