One of the original console systems, with glorious late '70s color scheme
Magnavox was really on the ball when they released their Odyssey system in the early '70s, and their Odyssey 2 system implemented the cartridge design methodology that would grow into what we know as the home gaming console. The idea of easilly plug-and-play small circuit boards was a huge mental leap, and once made allowed for the explosion of game development and the explosion of popularity of home systems.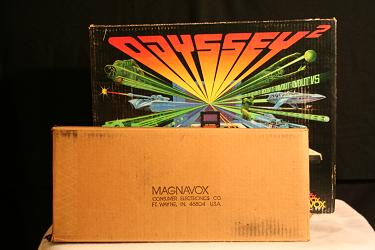 The collection that I found to add to the Preserve came with not only a boxed example of this important system, but also a mysterious shipping box emblazoned with Magnavox.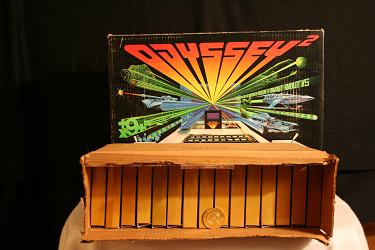 Which turned out to be a packed, original shipping case of Odyssey games!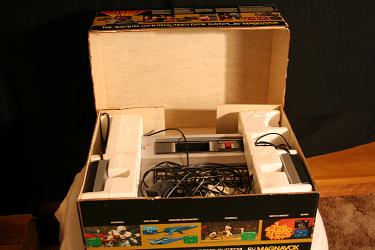 I even find the opening method of the box - with a large rear-hinge which allows the entire top to swing up and back, to be a good design that really isn't used enough. The packaging is still solid and complete, and showcases this 25 year old piece of electronic history.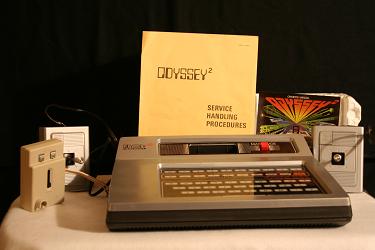 And at last here we have the system. This set even included some original paperwork, and all original cables and connectors.
Magnavox Odyssey 2 Titles in the Preserve
Title
Producer
Year
#
Owned
Alien Invaders - Plus!
Magnavox
1980
AA 9428
Complete
Alpine Skiing!
Magnavox
1979
AK 9418
Complete
Armored Encounter!/Sub Chase!
Magnavox
1978
AJ 9403
Complete
Baseball!
Magnavox
1978
AJ 9408
Complete
Blockout! Breakdown!
Magnavox
1980
AA 9427
Complete
Casino Slot Machine!
Magnavox
1980
AA 9426
Complete
Computer Golf!
Magnavox
1978
AJ 9410
Complete
Computer Intro!
Magnavox
1978
AJ 9406
Box, Cart
Cosmic Conflict!
Magnavox
1978
AJ 9411
Complete
Electronic Table Soccer!
Magnavox
1980
AA 9423
Complete
Football!
Magnavox
1978
AJ 9402
Complete
Invaders From Hyperspace!
Magnavox
1979
AK 9414
Complete
I've Got Your Number!
E. Averett
1979
AK 9413
Complete
Las Vegas Blackjack!
Magnavox
1978
AJ 9401
Complete
Match-Maker!/Logix!/Buzzword!
Magnavox
1978
AJ 9407
Complete
Out of This World!/Helicopter Rescue!
Magnavox
1979
AK 9419
Complete
Pachinko!
Magnavox
1980
AA 9425
Complete
Pick Axe Pete!
Magnavox
1982
AC 9437
Complete
Pocket Pool!
Magnavox
1980
AA 9424
Complete
Showdown in 2100 A.D.!
Magnavox
1979
AK 9416
Complete
Speedway!/Spin-Out!/Crypto-Logic!
Magnavox
1978
AJ 9400
Complete
Take the Money and Run!
Magnavox
1978
AJ 9412
Complete
Thunderball!
Magnavox
1979
AK 9415
Complete
War of Nerves!
Magnavox
1979
AK 9417
Complete