News Details
Transformers: Revenge of the Fallen - Reverb Scout Class
I have finally gotten around to posting one of the wave 3 scout class figures that were picked up the other day and I figured to start with my personal favorite. Something about the coloration and styling of this figure is just so indicative of a gobot from back in the day, I can't help but love it. Even the vehicle and robot modes seem to be directly from the '80s, unassisted by the crutch of computer design or Michael Bay style character obfuscation. Enjoy this figure and bio by clicking on the image!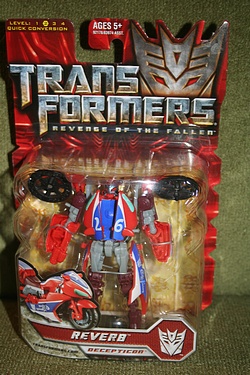 Posted by charlie on August 22nd 2009, 06:57 PM
Leave Comment

Share
---
No comments have been posted.
---