News Details
Transformers Animated - TRU Exclusive Ratchet
Hasbro was good to the fans in that they are trying to get the last few
Transformers Animated
products out to market, in one way or another. Months ago it was learned that Cybertron Mode Ratchet and (gasp!) Arcee would be making their way to
Toys R Us
as store exclusives. Well, they have been showing up on eBay for some time now, but not until last weekend had I seen a trace of them despite my semi-regular canvasing of any TRU store that I could find. Of course, Ratchet is selling a lot more slowly than fan favorite pinkbot Arcee, so often hangs as a grim reminder on the pegs that you
could
own an Arcee figure, but were just too late. I had just such an experience recently, finally seeing the ol' Medic himself, with of course no sign of the fembot. One exclusive is better than zero exclusives, so Ratchet has joined the Preserve archives, and is featured today! Click the image for more shots and his bio. Hopefully I'll be able to feature Arcee here soon, without resorting to the wild world of eBay.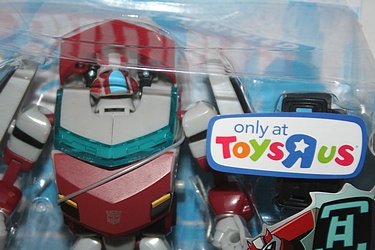 Posted by charlie on May 13th 2010, 08:00 AM
Leave Comment

Share
---
No comments have been posted.
---