News Details
TurboGrafx-16: Final Lap Twin
The other day when I posted
Pac-Land
I talked some manner of smack about another
TurboGrafx-16
game, Final Lap Twin. Turns out that I should have watched my tongue and given this game a little more of a fair shake before condemning it to the lower ranks of the library, for it is actually pretty cool! Not only is the racing engine fast and responsive, and the dangerous billboards whip past at a convincing and well-rendered clip, but there is a Final Fantasy-esque RPG mini-game component as well! I say 'mini-game' perhaps too hastily also, as I have made very little progress in it, and don't know how long it actually is...it may be huge!
Basically there is a 'quest mode' which, when chosen, becomes immediately familiar to any fans of FF-style top-down-overworld-map town-wandering, random-encounter-having, wise-old-man chatting game system! I was so very pleasantly surprised, and the stock of FLT definitely went way up. My first 'encounter' was with some other punk racer who sadly handed me yet another loss. After that bitter defeat, I ended up back at my home base, where my mentor/Dad gave me another $250 to apply towards the fairly detailed car upgrade system, and sent me back out into the harsh racing land...how kind! This, then, is my official apology to Namco and their great Final Lap Twin from good ol' 1989! Click the image below for a few more shots of this excellent game.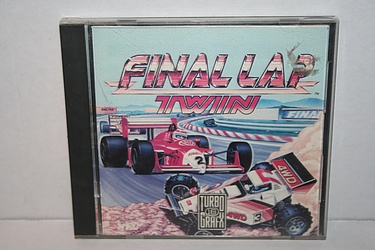 Posted by charlie on June 16th 2010, 08:15 AM
Leave Comment

Share
---
No comments have been posted.
---