News Details
Transformers Generation 1 - Ramjet
I got a lot of toys as a kid - sort of goes without saying I guess. One clear memory I have is actually writing a letter to the Easter Bunny (yes, the Easter Bunny) for Dirge and Ramjet, because it's less fun to only get to request awesome toys from a holiday deity once a year. Sure as can be, I got those two excellent seekers along with all the festivity the egg-hiding candy-grubbing holiday has to offer. This example of Ramjet I've picked up more recently, and is still boxed and in pretty good shape. I didn't have my loose example near at hand, but we all know I like the packaging best of all! Click the image below for more angles, the bio and stats.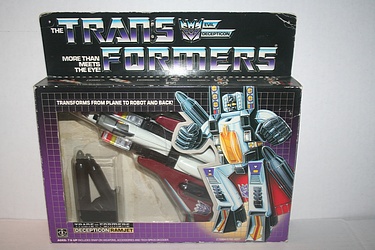 "If it flies, crash it!"
Posted by charlie on August 4th 2010, 06:55 AM
Leave Comment

Share
---
doctorkent
August 4th, 10:05 PM

I've never liked the Seeker mold. The only one currently in my collection is an all-black, 4-Star collection knock off. Ramjet is a fun character though. I use a Fast Action Battler from the movie for his representation in my collection.
cparry
August 5th, 06:16 AM

Oh man, don't like the classic seeker?! I guess I just have my standard soft-spot for the mold, thanks to childhood memories, even though I've realized from day one that it's clunky and barely (if even) articulated. Was always frustrating to look at it and just wonder why it couldn't move better - sort of like looking at Ironhide or Ratchet and wondering why they couldn't figure out how to give them heads.
doctorkent
August 5th, 09:30 PM

Well, once they got past Diaclone and didn't have to worry about including room for the pilots inside the bodies, the transformations became much easier to pull off.
I think it was because I liked Starscream so much on the show, and his toy just didn't work for me. The Pretender one captured the aesthetic for me more, once that was released.
cparry
August 6th, 06:19 AM

That reminds me - I should get some pilots!
---