News Details
DC Universe Classics - the KMarting
Mattel had announced some strange partnership with KMart stores for wave 15 of their popular
DC Universe Classics
line, in which KMart would get the figures several weeks early, and offer them at a tremendous discount of over 50% off standard retail. This all sounded like a great plan, except for the fact that KMart has some trouble getting their act together these days, and I certainly never saw a sign of these figures, either in my small upstate town or the much more active wilds of New Jersey during the recent
Horror-Thon
...of course after 24 hours of Jason and the electro-bugs, I can't be entirely clear on what I was seeing anylonger.
But, recently, what should my wondering eyes behold but the tail-end of some figures from this line! Ok, sure, out of the entire set it's clear that I got the three least popular ones, and they were no longer 50% off (though still less than Walmart, in some strange hybrid pricing move) but it was still fun to find them randomly on a hunt - as it always is.
Here, then, we have Jemm from wave 15 - he has a forehead gem which tells the future, which is cool, but I think he would be better still with some pink '80s hair and rocking out with the Holograms! Well, don't let that stop you from clicking the image below, and reading the bio of this latest figure to join the ever-expanding ranks of this popular line.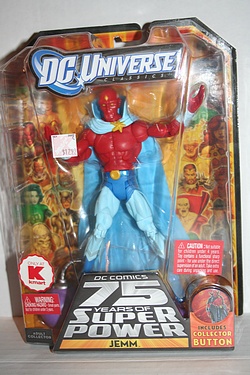 Posted by charlie on November 20th 2010, 08:06 PM
Leave Comment

Share
---
doctorkent
November 21st, 11:35 AM

Still no sign of these guys around here. Golden Pharoah will be mine!
cparry
November 21st, 09:33 PM

I was totally on the lookout for that guy for you - but no luck so far!
jackstatic
November 22nd, 11:27 AM

Clearly, you missed out when they hit. The thing is this, not ONLY were they 50% cheaper then anywhere else, but k-mart had a coupon available the same week they were released, the coupon was $5 off ANY toy, so people were paying ~$3 per figure. Friend of mine picked up 2 each of wave 15 and turned a nice profit online with the spares, but they were definitely around, I think the issue might have been if you weren't constantly calling/checking k-marts, you were gonna be sol, partner that with the fact that there is generally much less k-marts then other stores, there will be more saturation of consumers to single stores
cparry
November 22nd, 12:01 PM

You're absolutely right, I totally spaced on these figures when they were first hitting. However, what made matters more difficult is that there are not a lot of options by way of KMart stores in my little town, and the one that I have is notorious for not getting cool stuff like this. I've still not seen a trace of these at the local shop, and only found the stragglers I did by travelling to another town. Well, maybe they'll turn up on a hunt eventually!
---