News Details
eBay Watch - Rock Lords, UK Action
Rock Lords collectors will be well familiar with the rare repaints that brought up the tail end of the already poorly distributed Action Shock Rocks group. I certainly don't have a full set of the repaints here at the Preserve, and have even been approached to part with the ones that are in the header images of my poorly-populated
Rock Lords page
.
Today then we take a look at an
eBay action
from Harrow, Middlesex, United Kingdom (hruff hruff hruff!) featuring one of these very seldom seen repaints which did in fact get some distribution in the UK market as well.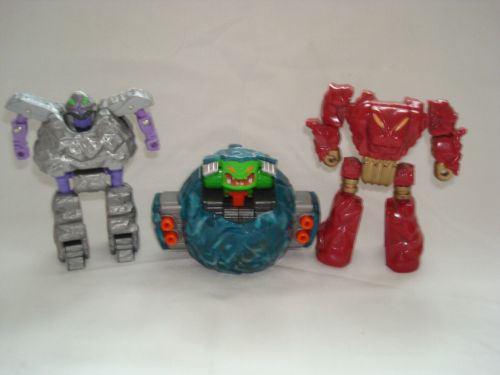 There in the middle, between Crackpot and Brimstone, is the jaunty-colored, almost Transformers G2-esque, Dragon Stone. I rarely see this one appear, and it started at a delightfully reasonable price. I was in a Rock Lords mood today, so it seemed something you all might want to see as well!
Posted by charlie on August 30th 2011, 08:10 PM
Leave Comment

Share
---
No comments have been posted.
---