News Details
Magnavox Odyssey 2 - Pick Axe Pete!
Let's finish out the week the way we should finish out more weeks around here - and that's with some good old fashioned gaming coverage! Today we're taking a look at one of the harder to find titles for the
Magnavox Odyssey 2
system, which came along in 1982 near to the end of the line for that system.
Pick Axe Pete!
bears a software copyright by the very busy Mr. E. Averett, a programming powerhouse the likes of which our modern digital age is founded upon. Click through the image below to see the delightful, colorful and I feel terribly gorgeous packaging and instructions for this 29 year old gem!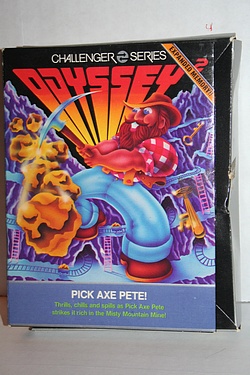 Posted by charlie on October 7th 2011, 05:22 PM
Leave Comment

Share
---
doctorkent
October 9th, 03:08 PM

One of the best on the Odyssey! Of course, that is like being the best one-armed street fighter who got his missing arm bitten off by a shark during a radical skateboard competition, but still!
cparry
October 10th, 06:43 AM

I need to fire up one of my handful of Odyssey 2 systems that are here around the Preserve, and see just how this one-armed shark bitten street fighter plays!
---