News Details
Kenner 1987 Toy Fair Catalog - "The Heat Goes On!"
Reading through this catalog again as I shot the massive photo gallery reminded me what an amazing year was 1987 for Kenner. So many of the lines that are counted as favorites around the Preserve were either included in this book as an ongoing series, or made their initial debut! Just have a look through the gallery for Sky Commanders, M.A.S.K., Silverhawks, Ghostbusters, Centurions....it really makes your head spin. It's sort of a massive gallery, but once it loads you can pick and choose images that will open in new windows - as usual - so hopefully it'll be a fun browse for everyone! Also - remember that clicking on the image thumbnail opens a 'medium sized' image while clicking on the 'XL' link below each thumb will open a high res version for any details that you've got to check out! Happy Monday!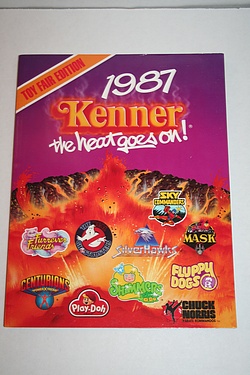 There are so many amazing pictures, but here's a fun one for me, being into the whole packaging and sales-setup angle of things...some suggested example M.A.S.K. plan-o-gram layouts! (click for XL pic)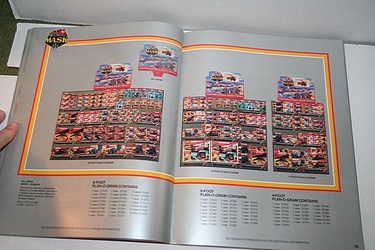 Strange how only the 6' plan-o-gram contains Boulder Hill - mystery of the ages!
Posted by charlie on November 21st 2011, 06:17 AM
Leave Comment

Share
---
Ben
November 21st, 11:43 AM

I'd say those Sky Commanders better be wary of that giant gorilla that's overlooking their decidedly one-sided war against The Raiders.

Also, I'm not completely sure of this, but I once heard something about those otherwise unproduced Chuck Norris and the Karate Kommandos figures getting released in South America.
cparry
November 21st, 11:50 AM

Good job spotting that gorilla - that's a fascinating book about Japanese robot toys I picked up from Kinokunia last time I was in the city - Godaikins galore!

Speaking of unproduced things, I was quite enthralled by the Hawk Haven playset that never saw the light of day.
Ben
November 21st, 02:29 PM

Most of the big bases produced back in the 1980s weren't that great. Hawk Haven looks cool, but judging from that early artwork, it doesn't look like it offers much in the way of play value.

I still say the Computer Warriors computer playset has to be among the best bases ever produced. It's the perfect scale for the toys and it offers a ton of play value.
cparry
November 21st, 02:32 PM

Yes, the artwork and whole design of the Hawk Haven looks a little rushed - they probably secretly knew it would never come to be.

And you'll certainly get no argument from me about the Computer Warriors playset - one of the favorite lines around here! I recently re-discovered my original box for that set, which was the cause of much rejoicing.
doctorkent
November 21st, 04:14 PM

At least one random Kenner thing did see production in South America - the Copper Corner from Police Academy. Charlie, to answer the Boulder Hill plan-o-gram question, some stores back in the day, as well as now, have a cap on the pricepoint of items they would sell.
---