News Details
eBay Watch - Vortech and M.A.S.K.
M.A.S.K. is a very special line around here at the Preserve - one of our favorites in fact - and it was only later that I became interested in the far more rare Vortech line, which benefited from reuse of many designs or at least concepts from that earlier, better known series. It was therefore something of a surprise to see this beautiful, complete collection of Vortech vehicles pop up on eBay. What I could not have been prepared for, however, are the other auctions that this seller currently has posted. I implore you to
check them out
- the mini dioramas that he has made for the figures are... well, just go see.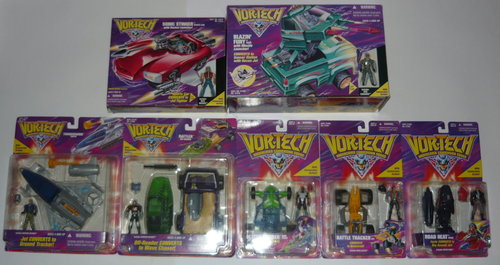 What's that? Don't remember the team-alert sequence from the show? Well, fast-forward to about 4:27 in this video - that should do the trick.
Posted by charlie on March 6th 2012, 07:36 PM
Leave Comment

Share
---
Ben
March 7th, 09:56 AM

I'm relieved that I got the full set in one shot a couple of years ago (and for a bargain at about $75, though it was all loose), because I can't imagine trying to complete it otherwise.

Here's the thing: Compared to M.A.S.K., Vortech can't hold a candle. Somehow, the toys got WORSE between 1988 and 1996. However, they are still decent transforming vehicles, making them far more interesting toys than pretty much anything else available during the same year (when Star Wars, Spawn, and other scalper-bait toy lines dominated). I will say that the transforming Viper is definitely the highlight of the line. I hope this guy gets the kind of money he deserves to get for his collection and customs. It's got to be a difficult decision to let go of something he was clearly very passionate about.
cparry
March 8th, 07:08 AM

Nice job snagging the full set for such a bargain! I'm still slowly accumulating it myself - and you know I have a real hang-up for packaging so I'm waiting until I find boxed examples.

I agree with you completely about this fellow's auctions - I hope he gets what he needs from them. It always makes me somewhat sad to see what was clearly a real passion for someone, up on the auction block. I'm still blown away by the mini dioramas - really should spring for one of them...probably the pet store.
Ben
March 8th, 08:49 AM

The artwork is fairly decent for a toy line from the mid-1990s. And the fact that 5/7 of the line is carded offers a little bit of a better display, or at least allows you to appreciate the toys inside.

His dioramas didn't sell, but a number of his custom figures did, and some of them sold for quite a lot.
cparry
March 8th, 08:54 AM

I'm starting to believe I'm the only one who is so excited about those dioramas...but I'm sticking to my assertion that they are brilliant, absurd, and proof that there are still good things in life.
---